Photo by Gene Breckner, Valley Press


News and Events!

Note: This website is currently under development and the image gallery is not currently available on mobile devices. The Flash plugin is required for desktop browsers. A new mobile-friendly gallery will be accessible very soon.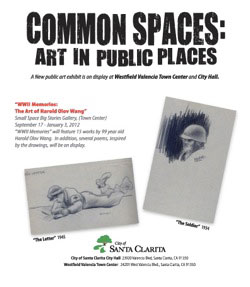 BRAND NEW EXHIBIT!  "WWII MEMORIES: THE ART OF HAROLD OLOV WANG"

In commemoration of the upcoming Veteran's Day this fall season, a special never seen before selection from Harold's amazing WWII Drawings will be on exhibit:

Westfield Valencia Town Center, Small Space Big Stories Gallery (City of Santa Clarita)
24201 West Valencia Blvd., Santa Clarita, CA  91350

September 17, 2011 through January 3, 2012

Reception:  Saturday, September 24, 2011 from 2-4pm
** POSTPONED UNTIL MID-OCTOBER **
(Catered event with live entertainment and special guest artist, Harold Olov Wang)
(Enter from The Patios shops through the double-glass doors near Sears)


Previous SOLO Exhibition:

"Imagination At Play"

Thanks to all of you who attended the successful SOLO exhibit and saw the impressive selection of Harold's Abstract Impressionist and Traditional paintings at:

Towns-Burr Gallery
3609 West Magnolia Blvd., Burbank, CA 91505
(818) 378-4591
www.townsburrgallery.com
Saturday, June 5th through Saturday, June 26, 2010

Harold enjoyed meeting everyone at the Artist's Reception and Gala event! You can read the wonderful review he received in the Burbank Leader.


If you would like to be included in future mailings for exhibition announcements, please email us.
Remember to include your name, address and phone number.


Previous Exhibitions...

Although Harold has been an artist for more than 90 years, working in various media and textures, it is with great pride and pleasure that we present to you his latest collection, 'New Dimensions', in the Contemporary and Abstract Impressionism paintings sections of the Gallery, where you will also see more of this artist's impressive body of work which includes his traditional paintings, landscapes and portraits, and shows a broad spectrum of styles and influences that spans over 9 decades.

Harold also has a truly amazing collection of his drawings from the 1930's and his WWII war drawings from 1945 while aboard a U.S. Naval Liberty ship.  This was during the time that he wrote many poems about the war and the impact it had on him.  You can read the foreword from his book of war poems entitled, "This The Time", in the Literary Works section of this website.

About the Artist...

I've always admired my father. Even at his "young" old age, he still has his passions, his myriad talents, and his wonderful imagination. Ever since I can remember, he has been writing novels, short stories, articles, poems, plays, and taking charcoal to paper, pastels to parchment, oils to canvas. We have always enjoyed having our own private gallery of his works in our home.
Now with his present fascination with yet another medium, acrylics, he again dazzles our senses. Harold developed this new artistic technique with his unique eye for color and contrast, and his keen sense of adventure in viewing the world around us. He captures amazing images and stories in his paintings, which extend well beyond one's initial viewing of this artist's revolutionary work.  Harold has always been a very versatile artist with styles ranging from Realism and Traditional to Contemporary, Abstract or New Art Impressionism and Abstract Visualization. Though he has been published and has received awards throughout his lifetime (including the award from LMAGA for his "Come Into My Parlor, Said The Spider To The Fly"), the accolades he treasures most are the reactions on the faces of those who have seen his art. The paintings have a brilliant three-dimensional quality, so that each time they are viewed, one discovers something not seen before. The key is to use your imagination.

Read more...




For Exhibitions, Sales and Information, contact:

Geraldine Livingston
P.O. Box 1333
Canyon Country, CA 91386 USA
(818) 424-1165
Email: info@haroldolovwang.com

Back to top